Commercial Fire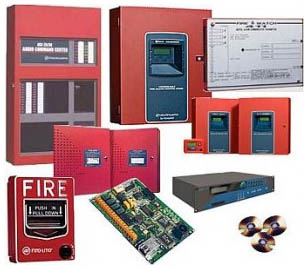 View the fire alarm brochure here.
Please call our fire alarm specialist at (850) 682-8041 for a free consultation.
Burglar Alarm System
Protect your family and loved ones with a security system designed specifically for your needs. We provide a full range of hardwired and wireless solutions to protect your family from intruders.  The following are the basic components making up a basic security alarm system.
 Honeywell Alpha 6160 Keypad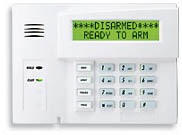 Security and Convenience at Your Fingertips
The keypad allows you to arm & disarm your security system.
Function keys can be programmed by your security professional for single-button operation and to notify the fire department, police or medical personnel in the event of an emergency. Each can be color coded for easy use.
Honeywell's Thinnest Wireless Sensor… Virtually Disappears When Installed!
Super sleek and thin at only 1/4″, Honeywell's exciting new 5811 Thin Door/Window Contact Transmitter virtually disappears when installed—making it ideal for applications where aesthetics are critical such as ornate doors, casements and double-hung windows. The 5811 features an impressive range, is aesthetically pleasing, sleek and blends with any décor—making it a huge selling point for homeowners and a great opportunity to add more content per sale!
Extremely compact at 2-1/8″ H x 1-3/16″ W x 5/16″ D
Provides a single zone of protection and installs easily on doors or windows with included mounting hardware and double-sided adhesive tape
Mounts directly to window frames
Easy to open, requires no special tools and includes a case tamper
Contains long-life 3V lithium battery
Honeywell Wireless Motion Sensor
A motion detector is a device that detects passive infrared energy changes in a room.
Honeywell Remote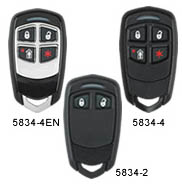 Easier Operation and Fewer False Alarms
Honeywell Remote makes it easy to arm and disarm your security alarm without using the keypad
Tactile, comfortable keys are recessed and labeled with recognizable function icons—helping you select the right function without guessing
No codes to rememberEnhanced Security
Four buttons can be programmed with up to eight functions, including contacting the police, fire department or other emergency response personnel (Four-Button and Enhanced Four-Button models only)
LED confirmation that transmission has been sent
Asset Protection
Honeywell's 5870API is a wireless asset protection device designed to guard against theft. It easily affixes to any valuable requiring protection within a home or business, including paintings, flat screens and other electronics, family heirlooms, safes, machinery, equipment and more. The 5870API is an ideal solution for early warning notification or alarm verification.
Wireless Glassbreak Detector
Honeywell's 5853 Wireless Glassbreak Detector offers uncompromised performance and unmatched false alarm immunity. The FlexCoreTM signal processor utilizes an Application Specific Integrated Circuit (ASIC) – processing sound data in parallel rather than sequentially. This permits sound frequency, duration and amplitude to be analyzed 50% faster to minimize false alarms while maintaining the highest possible level of detection.
The 5853 can be mounted on any wall or ceiling within a 25' range, with no minimum range limitation. The LEDs indicate test mode, alarms and trouble conditions. It is compatible with all 5800 series wireless devices.
Two-Tone Siren
Patented case design fits single gang electrical box or wall plate
Snap-open hinged case cover for faster installation
Louder (106db) dual tone siren output
Residential Fire Alarm
Monitored smoke and heat detectors work in conjunction with your security system. In the event of excessive smoke or heat, the fire alarm devices will signal our UL Listed Central Station where an alert will be issued to the local fire department. Protect  your loved ones by adding smoke or heat detectors to your security system.